Abendblau: Greatest Hits
Abendblau is a Rock band, that was founded in 2010. As we're making music for fun, we're are presenting our tunes for free on Jamendo, where thousands of people have already listened and downloaded them:
ABENDBLAU: Lyrics Meet Melody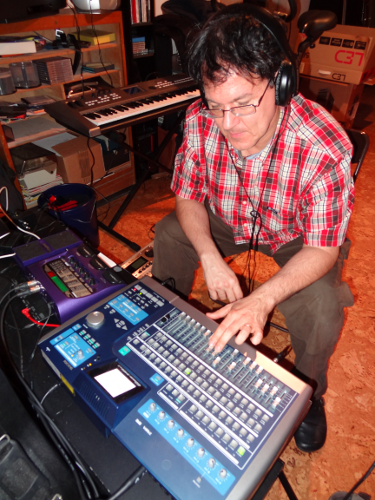 In the home recording studio
Abendblau is not your typical next-door band. As the two band members are living rather far apart from each other, they can't meet in rehearsal rooms on a regular basis and they don't perform on local festivals. But melodies keep floating around in Achim's head all the time, and Jo's head is full of lyrics. So Jo is sending his lyrical ideas via mail to Achim who turns them into songs. On the other hand, Achim is sending Jo his musical ideas on CD and Jo is finding the proper words for them. Details are discussed via mail, chat, or telephone. Other people are free to contribute their own ideas, f. e. in the Abendblau-group on Facebook that is open for any new members.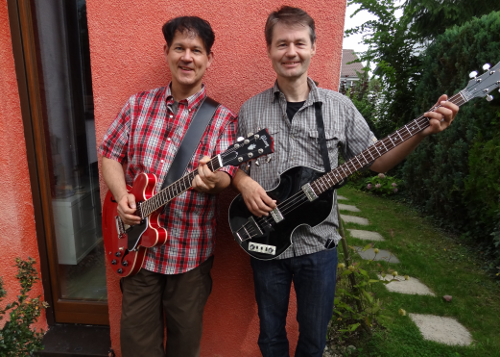 Abendblau in 2011
The recording of the songs is Achim's job. He has set up a home recording studio and plays all the guitar, bass, and keyboard tracks. He is still using real instruments, only the drums tracks are created with a drum computer. For most of the songs there will be a German and an English version - the German one because Achim feels more comfortable singing in his mother tongue, the English one so that listeners in other countries can get the meaning of the songs, too. More and more often Achim gives his tracks to Bernie, who adds his awsome keys. Bernie then forwards to Jo for the dubbing.
As soon as the tracks are finished, Jo is creating a cover for the CD and makes sure that people will be able to listen to the songs.
Abendblau: News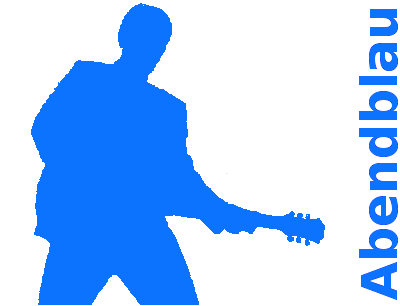 19. April 2013: The long announced album Taken by Aliens was released yesterday. I think it has become one of our best. Meanwhile, we started working on the next album already ...
17. Juli 2012: Our new Album rolled out today. It's called "Glue Together", and you'll find it here. We've already started with the next Album that will for sure be filled with some crazy stuff, e.g. a song called "Hijacked by UFOs".
10. Juni 2012: The 3-Löwen-Takt music competition was a complete flop as we never heared back from the Jury. Obvioulsly they failed to make or publish a decision, which was planned for begin of April.
12. Februar 2012: Everything is completed so that we can give it to the mail tomorrow. With our new song Mission Nahverkehr we want to take part in the 3-Löwen-Takt music competition.
27. Januar 2012: Our second music video is completed. It is called Searching for Tom. In this video we're looking for an old friend who went lost many years ago.
15. Januar 2012: The work on our next album progresses, the songs take shape: A song about two teenagers who stick together, a song about a YouTube beauty channel, another about football girls, a heartbreaker song and a song about feeling old and exhausted. Moreover, and this is probably a premiere, this time there are continuations of some songs from our latest album: The Lost Avatar becomes a "Saved Avatar" and the Prisoner of Love manages the "Escape from Love". Musically, again a variety of styles is represented, first time including disco and gospel.
ABENDBLAU: Give It a Try
Thanks to the fabulous Jamendo-player, you can give it a try right here as well. You will get access to the complete albums by clicking on "Albums/Alben" on your player and using the scroller. But clicking "Zum kommerziellen Gebrauch/for commercial use" won't do anything as the band don't offer this option.