The Band
Joachim Stahl and Johannes Unnewehr were both students writing short stories and playing in rock bands when they first met in the mid 1980's in the Science Fiction Club Deutschland (SFCD). Soon they became friends and their friendship has been lasting until today.
After university, working life took its toll, furthermore they both became fathers. But after the children had became a little older, there was more time for their hobbies again. Writing shorts stories and reading Science Fiction novels has become less fascinating than it used to be, but nothing has chanced in their love for music.
Achim
For a long time Achim had been admiring the accoustic guitar hanging on the wall of his aunt's flat where he was growing up. It was a heirloom from his uncle, a musician who used to play in a dance band. Achim's father, who had died at an early age, had been a musician too, playing the saxophone with his six-piece jazz band and performing mainly in American clubs for GI's based in the South German city of Heilbronn.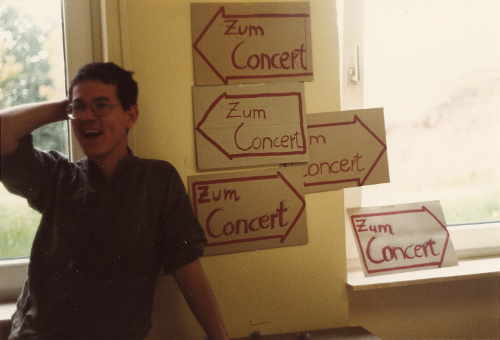 Achim trying hard to find the stage for a gig in 1985
When he was fourteen years old, Achim dared to take the old accoustic guitar from the wall and to pluck around on it. A learner's guide book taught him how to play proper chords and melodies. After a couple of years of autodidactic learning, Achim felt like playing in a rock band. In his high school at that time he found a couple of classmates who shared this wish. In the newly formed band called Asphalt Achim first played bass guitar, but after a while he switched to guitar and vocals. At first the high school band covered popular rock songs, but then Achim started to write songs. This way Asphalt became the first Heilbronn band surfing on the then New Wave. Soon the boys played their first gigs in the Heilbronn area.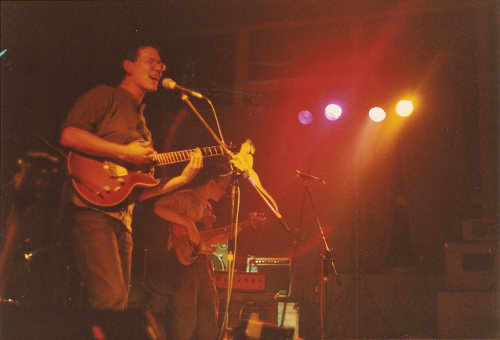 Achim performing with 10 Flash Bulbs in 1985
After alternative national service, Achim became a student of English and German language in Heidelberg. There he joined the New Wave band 10 Flash Bulbs who was performing on numerous stages in the Rhein-Neckar-area. After their break-up, Achim started the band The Ubix who was influenced mainly by British poprock. But the big break-through didn't take place with this band either. So Achim said farewell to his dream of becoming a professional musician. Instead he moved to Stuttgart and started to work as an editor for a publishing house. He made music only at home by recordings solo songs on a 4-track-tape recorder. The tapes with the finished songs were given away to friends.
As soon as his first child was born, there was no time left for recordings songs anymore. But after daughter and son had become a little older and more independent, Achim decided to make music again. Meanwhile he has become a member of the Boeblingen rock band Infantile Regression that performed for the first time in the summer of 2011.
Furthermore, Achim has enlarged his home recording studio. Within the last couple of years he has recorded numerous CD's, some of them with old songs from his former bands, some of them with brand new tracks. Since he has been working together with Jo, these CD's are published under the band name Abendblau and can be found as mp3-downloads on major musical portals like Jamendo, iTunes, and Amazon.
Jo
Jo's musical career was unsettled and under no lucky star at the beginning. After his first performances as a street musician in Stuttgart, the first backstroke took place when Jo was dismissed from his church choir in the mid-1980's due to poor singing. But nevertheless Jo kept on playing bass guitar with the Darmstadt rock band Aus der Dose.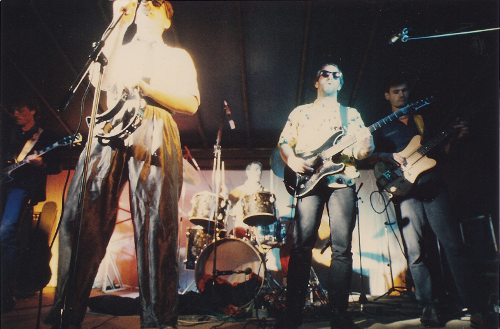 Aus der Dose at the Paint the Night Festival in 1986
Moving to Heidelberg in the early 1990's changed his life, and Jo found a new outlet as bass guitar player in the Heavy Metal Band Wintercamping in Warschau. Having suffered slight auditory defects, he finally left the band and put this bass guitar in the basement to start a career as a working dad.
Soon more musical backstrokes happened. As soon as she had learned how to speak, Jo's little daughter asked him to stop singing lullabys. The same happened seven years later with his second daughter.
Later some good-natured friends talked Jo into taking his bass guitar out of his basement and joining their living-room band. These good-natured friends sometimes even allowed him to sing a song. As soon as Jo's mouth opened, they turned up the volume of their instruments to save the neighbors. Fortunately, no gigs were planned. ;-)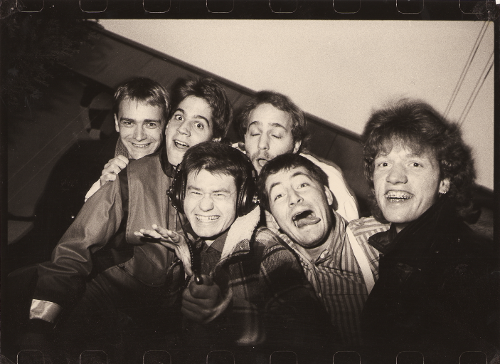 Jo with Aus der Dose in 1986
Jo finally couldn't ignore his vocal flaws anymore. Late 2010 he decided to improve his singing technique by ordering the book Powervoice on Amazon. In the typical Amazonian way he was informed about a book about writing song lyrics that other customers had considered buying as well.
Song lyrics as the condensed form of short stories were exactly Jo's cup of tea, as he had always been infamous for his puns, and he was writing down lines anyways whenever there was a chance. Soon he was bombing his old friend Achim with dozens of lyrical concoctions that he even translated into English to bother the rest of the world with them as well. Surprisingly, Achim didn't go on the run immediately - and this was the birth of the rock band Abendblau ;-)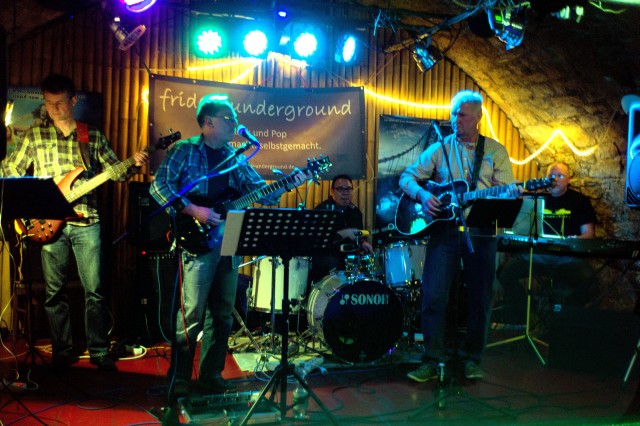 Jo with Friday Underground 2013 at the Beatclub Weinheim
Early 2013, the children established ties ("My dad is in a band!" - "My well!") with Friday Underground, and Jo filled their vacant bassist position. At the first practice the Fridays gladdened Jo with a hastily composed interpretation of his song lyrics Behind a Coffeebar and this way they conquered his heart by storm. Since then Jo is touring with the Fridays through the region. In addition to a gig at the "Beat Club Weinheim", appearances are planned at the "Living Neckar" event, "Around the castle" and as well a trip to France.
Bernie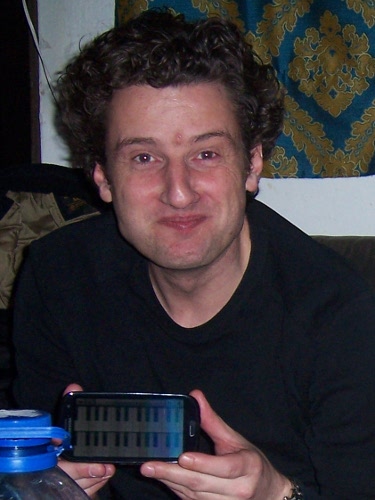 Bernie presenting his new keys 2013
Abendblau's nestling startet as a 10-year-old boy with playing music. He first learnt how to play accordeon autodidactically. A couple of years later, he started playing tenor-horn in his hometown's orchestra and performed lots of concerts with his band-mates. But gradually his love for traditional music for brass instruments faded away and he became a fan of progressive rock instead. Pink Floyd, Led Zeppelin, Genesis and Yes were the most influential bands of his further musical development. Today his favourites are Porcupine Tree, Anathema, and his all-time musical hero Peter Gabriel.
After university, Bernhard startet to work as an IT-manager. To relax at home after work, he bought a keyboard. After becoming a little son's father a couple of years ago, the former advertising photographer couldn't picture himself standing in a rehearsal room or on a stage at all. But one of his colleagues talking him into joining a rehearsal of his band. And so Bernie became keyboarder of Infantile Regression. There he met guitar player Achim, the musical mastermind of Abendblau.
Achim, who used to play the Abendblau keyboard tracks using the two-fingers-in-search-modus, was at once amazed by the masterful technique of his new band-mate. That's why he asked Bernie to contribute to some Abendblau-tracks. And again good-natured Bernie agreed, even though free time was rare and precious. So Achim recorded the instrumental tracks and the vocals of the new songs and gave them to Bernie. Thanks to his musical understanding, Bernie found at once the right notes. When doing the final mastering, Jo was amazed by the new keyboard tracks, too, and became Bernie's fan at first hearing.
Meanwhile the dark-haired curly "Billy Preston of Abendblau", as he was called jokingly, has become a steady member of Abendblau und contributes a great share to transpose their sound onto the next level.